100 hours, 6 years, I've finished watching Lost. In some previous seasons, I have to admit that I'm kind of getting lost watching the show. Now I have finished watching the all six seasons and I asked myself that what happened.
The result put me back into curiosity what the island was on earth. It is a totally different world where people start a new life. Maybe the truth is people all died the first time the plane crashed. There were not any survivors. They just died! And then the rest episodes were telling one story that happened after people died.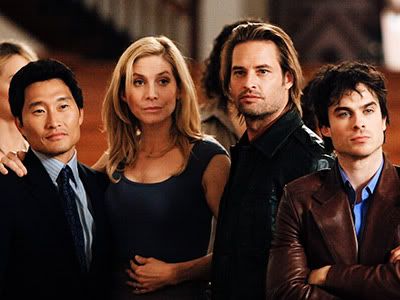 The show told us that life went to after people died. We all should move on and learned to let it go in life. The names on the wall meant that we all had to believe in fate sometimes. It was nothing but a death list on the wall. The plane was doomed to crash that day and it was their fate to die. Nobody could stop this from happening. The six men who got up on the plane were because they didn't want to admit that they were all dead. So they struggled to fight for their own wishes. But the thing was finally they had to reunite with the other men, Jack, Hugo and etc.
Why there wasn't a story about the pilot? I couldn't figure it out.
It was Desmond who finally brought people back together at last. Why would he do such a thing? Maybe he was guided by someone to do so, Yes, Widmore. Who was Widmore? I had no idea. In my opinion, Jack played the role of obeying the rules while Sawyer was typically one man who tried to play against the natural rule. He just led his own way of living. I had to admit that I was lost again writing this article.
Great thanks to the directors, producers, actors and other workers of Lost. Thank you!