Six seasons, almost five years, it has finally come to an end today. I have to admit that I'm a huge fan of Lost and I didn't even miss one episode during the five years. And the truth is the more seasons I've watched, I will get myself lost in Lost. I don't know if you share the same feeling with me.
I remember when Jacob told Jack and others the reason that why they are chosen as the candidates of the guarder of the island. It was because that the real life of them seemed to be very upset and nobody lived a happy life. The island gave them a truly second life which was beyond their imaginations. They are lonely and desperate in life so they are chosen. Does this mean Jack and the others owe a great thanks to Jacob? I don't think so. Others have kept trying to return to normal life since they arrived the island. But the truth is how many of them really want to get back to real life? I don't know but I am certain John is the last one to get back.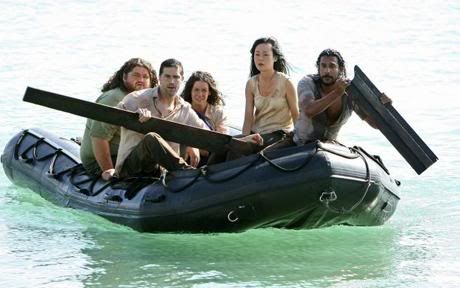 What is the island? I consider it as an island in our heart where we can keep our secrets from others. It is a great place where we can say farewell to the old life and start a new life and that is some people pursue in the world. The ultimate and best way to leave a depressed life is to go far away and start a new one. So I can't help asking myself that where the island that only belongs to me is. Will I find it in the rest of my life? I hope so!
Now Lost has come to an end. I think I will collect all the DVDs of Lost and watch them over again. It is one of my favorite shows. Once I was also a big fan of 24 hours. But later then Lost has replaced it. Except Lost has come to end, there are actually many others things. Inter has also won its championship after such a long time waiting. NBA finals is also coming and which one you want to win the championship? I vote for Celtics.